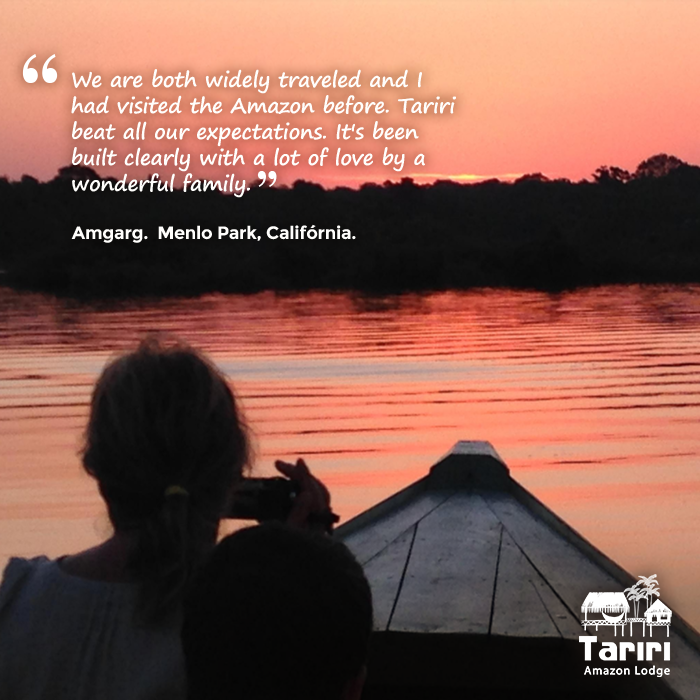 Who better than our guests to talk about the experience here at the lodge and report the most important information to anyone coming from outside the country.
Look at the passionately detailed testimony we received:
amgarg
Menlo Park, Califórnia
We are both widely traveled and I had visited the Amazon before — Tariri beat all our expectations. It's been built clearly with a lot of love (and all by hand as we discovered) by a wonderful family.
Some highlights:
– Location: Just two hours from the Manaus airport, amidst pristine wilderness, on the margins on the Rio Negro. Who knew you could get from an urban jungle to a real jungle so quickly and seamlessly.
– Comfort: Have you ever imagined a tropical rainforest *without* mosquitoes? Well, turns out the river water is too acidic for them so we didn't even need bug spray. And fear not, the river is just fine for other animals, including pink dolphins and flipper-less humans (this one cooled himself multiple times in it =).
– Food: YUM YUM YUM. More pirarucu please! And who knew manioc can be transformed into the magical food of the gods??? Tariri cooks everything fresh for every meal, from local ingredients. The lodge has 10 cabanas so at any given time it will likely have at most 20 guests, which means every meal feels like family.
– Price: I can't believe the amazing deal they offer, it came to less than USD 100 per person per night including food, transport and activities (canoeing, fishing piranhas, hiking etc).
– Animals: Have you ever been groomed by a monkey? Within five minutes of arrival I was — and I am pretty sure the monkey would have just lived on my shoulder if I had let it. It was absolutely incredible to be able to feed a baby toucan, have macaws perch on my arm, and cuddle with a baby sloth. The animals that live freely around the lodge have learned that humans can also be loving and they likewise treated us as such.
Thank you Tariri — for taking such good care of us, for baking a cake for her birthday, for making this a trip of a lifetime. Which is why this TripAdvisor devotee is taking the time to write about you as his first review.
<3