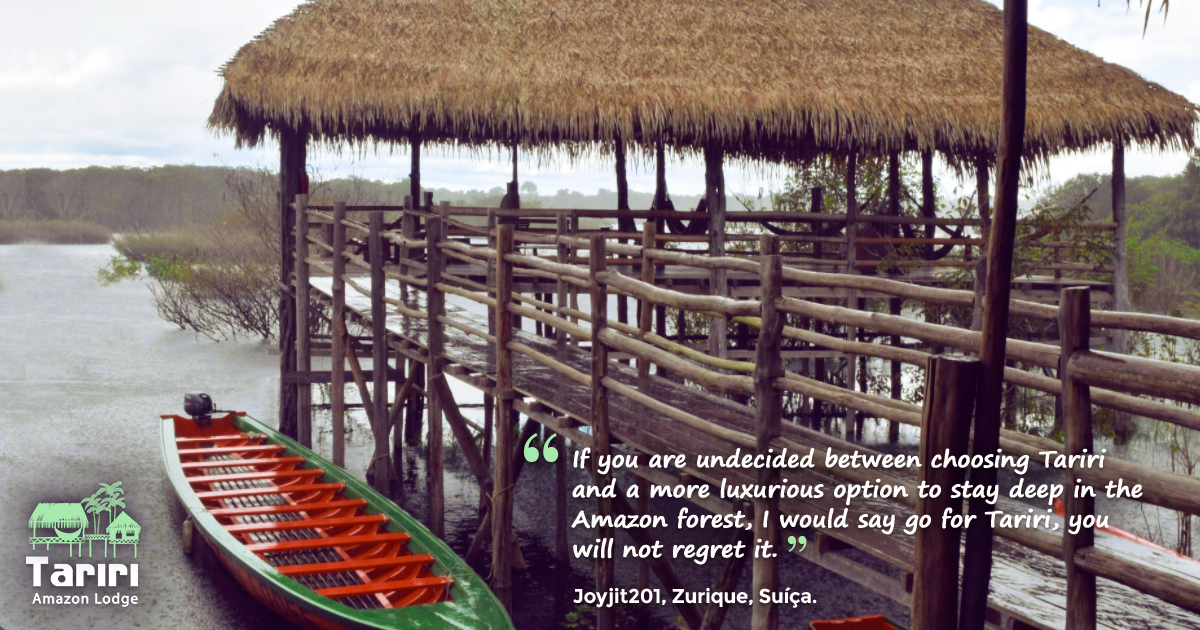 Toda vez ficamos muito felizes e emocionados com os depoimentos dos hóspedes, com este não seria diferente. Um casal muito gente boa que veio passar uns dias aqui no lodge e mandou essas palavras lindas pra gente:
"If you are undecided between choosing Tariri and a more luxurious option (although a limited few) to stay deep in the Amazon forest, I would say go for Tariri, you will not regret it. Tariri gives you the quintessentially rustic experience of staying close to the heart of the forest and the river, such that you are never really cut-off from the real experience.
It is as comfortable as you could possibly expect so deep inside the forest, with all necessary amenities as to not deprive you of anything (except of course the mobile and internet connections, lack of which I consider a boon in disguise). And yes…GREAT FOOD…with the freshest river water fishes and vegetables…
The review wouldn't be complete if I don't speak of the people who run it. Germano and Alvaro and their staff. You are given that welcome and homely feel all through your stay. Starting right from when you step in to Tariri (be prepared to be played along by the few domesticated Amazonian monkeys then) to the many excursions / activities and finally to the food…be prepared to get a very personal attention all the while. I was really humbled.
Thanks for making our stay that wonderful 🙂"
—
Joyjit201
Zurique, Suíça
Nós que agradecemos por conhecer pessoas como vocês. Obrigada! 🙂